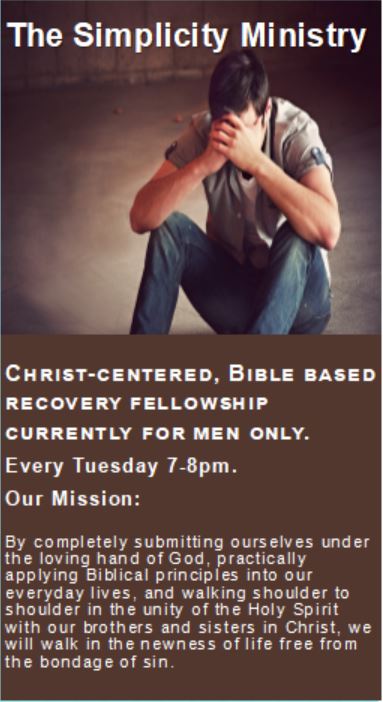 Afflictions are confusing…
Jesus Christ isn't.
We meet at 7:00 p.m. every Tuesday at the church in Suite 1085.
The Simplicity Ministry is a Christ-centered, Bible based recovery fellowship.
By completely submitting ourselves under the loving hand of God, practically applying Biblical principles into our everyday lives, and walking shoulder to shoulder in the unity of the Holy Spirit with our brothers and sisters in Christ, we will walk in the newness of life free from the bondage of sin. By leading and training believers to walk by faith in Christian liberty, we hope to bear witness of God's glory and redemptive power in our community.
Acts 2:46-47 So continuing daily with one accord in the temple, and breaking bread from house to house, they ate their food with gladness and simplicity of heart, praising God and having favor with all the people. And the Lord added to the church daily those who were being saved.
We believe fellowship in the body of Christ is imperative to our walk with the Lord. Afflictions tend to drive us into isolation. The condition of one's heart is the root cause of the problem. The Greek word for simplicity in Acts 2:46 is aphelotes. The root word is a compound of alpha as a negative particle meaning "no" and phellos in the sense of a stumbling stone. It is our hope as we gather to have no stumbling stones in our hearts. It is a great privilege that the Lord allows us to be part of an amazing home church. We encourage everyone to be actively participating in all of the gatherings at Calvary Chapel as the Lord leads. We also highly encourage every believer to be growing in and exercising his or her spiritual gifts through the many service opportunities at the church. Serving the Lord and others is the key to finding meaning and purpose in our lives.
Proverbs 11:14 Where there is no counsel people fall; but in the multitude of counselors there is safety.
Proverbs 12:15 The way of a fool is right in his own eyes, but he who heeds counsel is wise.
We will seek through intimate fellowship and discipleship to come alongside one another as brothers and sisters in Christ as we recover and grow in the Lord. We believe that as children of God we find meaning, purpose, fulfillment, and ultimately joy through actively serving one another. To be given the privilege of walking with believers as they mature in the Lord is a great responsibility. As the Lord raises up men and women equipped to disciple, our aim is to be fully submitted to the Lord, teach sound doctrine, and to hold each other accountable to the authority of God's word.
Human Powerlessness
Romans 7:15 For what I am doing, I do not understand. For what I will to do, that I do not practice, but what I hate, that I do.
Surrender
Matthew 11:28
"Come to Me, all you who labor and are heavy laden, and I will give you rest."
Examination
Psalm 139:23 Search me, O God, and know my heart; Try me, and know my anxieties
Confession
James 5:16 Confess your trespasses to one another, and pray for one another, that you may be healed. The effective, fervent prayer of a righteous man avails much.
Restitution
Matthew 5:24
"leave your gift there before the altar, and go your way. First be reconciled to your brother, and then come and offer your gift."
Devotion
Hebrews 4:11 Let us be diligent to enter that rest, lest anyone fall according to the same example of disobedience.
Commission
Matthew 28:19-20
"Go therefore and make disciples of all the nations, baptizing them in the name of the Father and of the Son and of the Holy Spirit, teaching them to observe all things that I have commanded you; and lo, I am with you always, even to the end of the age."
Amen.